Polished Concrete Services in Perth for All Your Flooring Needs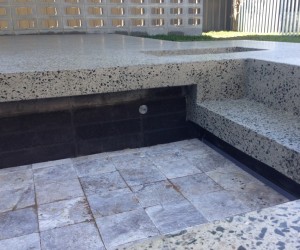 When you utilise our Perth polished concrete benches, seating and more, you will be left with extremely hard wearing and easy to clean flooring again. This building material will provide your floor with a brilliant gloss, with extremely low maintenance.
This benefit, coupled with the durability of our concrete floors, benches and even seating, means you will have various home features that will stay beautiful for a lifetime.
As well granting you a perfect space to enjoy your home's outdoor areas – or drive more traffic to your business through pleasant design – integrating our designs can greatly elevate the value of your property.
Our clients throughout Perth can attest to our high quality of service – speak to us today to find out how it's done.
Professional concrete services for every budget
Whether you're a homeowner looking to renovate your outdoor space, a builder looking for expertise in specific concreting, or a landscaper looking to impress a client on a project, we have developed a design system and quoting process which guarantees results.
Speak to one of our Perth consultants for more information on our polished concrete seating
Get in touch with us at 0411 865 199 and we will ensure that we will provide hassle free consultation of the highest-quality. Whether it is exposed aggregate concrete, polished or honed concrete or coloured concrete, we want to be involved. With professionalism and an eye for design, we're able to conceptualise a beautiful look for your property, so you can begin to welcome people home in style.
If you have any ideas about how you envision your space, please feel free to discuss them with us – if not, we're more than happy to create an impressive design in your outdoor areas.