We offer Exposed Aggregate Concrete Prices in Perth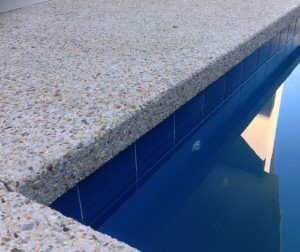 With the popularity and growing trend of exposed aggregate in Perth, we have built a name that is second to none. With the seamless look no matter whether it is utilised for a driveway, alfresco, pool surround, or simple path, we have the knowhow to guarantee an aesthetically pleasing look while aiming for the most cost effective solution.
Whether you are a home owner, a business professional or an architect, we are always looking for ways to improve the aesthetic appearance of your space.
We provide the most efficient way to do this, whilst offering a cost-effective way to introduce a fascinating design feature to your exteriors.
How can I incorporate a washed aggregate concrete finish?
The concrete can be used to create a modern look for your driveway, alfresco area, pool surround, or pathway. Such materials and mix design can be used in a variety of projects for a more aesthetically pleasing result. If you are looking to update your old sinking paving, consider using a washed aggregate finish. Concrete driveways and aggregate pools can be used in a variety of colours in order to best complement the overall look of your home.
Contact Modern Concrete Concepts for prices today to get an estimate on your project – we are able to provide a detailed plan and quotation complete with the right information to help you get the job done.
Prices and Cost of Exposed Aggregate Concrete
For quotes regarding the cost, contact Modern Concrete Concepts today and get started on enhancing your property with our knowledge and expertise. Whether you're looking to get a competitive quote for exposed aggregate pool, driveways or any other feature utilised from washed aggregate mix sourced from Perth, our team are the best people to talk to. If you have a design in mind, please feel free to discuss this with us – otherwise, let our design experts do the designing and we'll come up with something unique that will suit your space. Drop us a line at 0411 865 199 and learn how we can provide truly low cost aggregate concrete products for the best prices.